Psst… Here is the Secret to Effortlessly Dressing Up a Room
Hi there friend, here is a little secret to effortlessly dressing up a room with pillows. Pillows are a great and easy way to spark a new feel in our space. Pillows immediately add color, patterns, texture, and comfort in any space. Plus, pillows allow you to express your personal design style without having to redo an entire room. We put together some of the most commonly asked questions when it comes to buying pillows. I guess you can call this our Pillow Talk:
How do I pick the best pillow color? The best way to select a pallet is to take cues from your existing pieces in your room. A great example is getting inspiration from your primary wall art throughout your room. By pulling colors from the piece of art into your accent pillows you can create an overall cohesive feel in your space. If the artwork contains many bright colors, choose only one primary color for your pillows or pick a lighter shade of the color to tone down and avoid overpowering the artwork. Save the stronger colors in the art for accent colors in the room.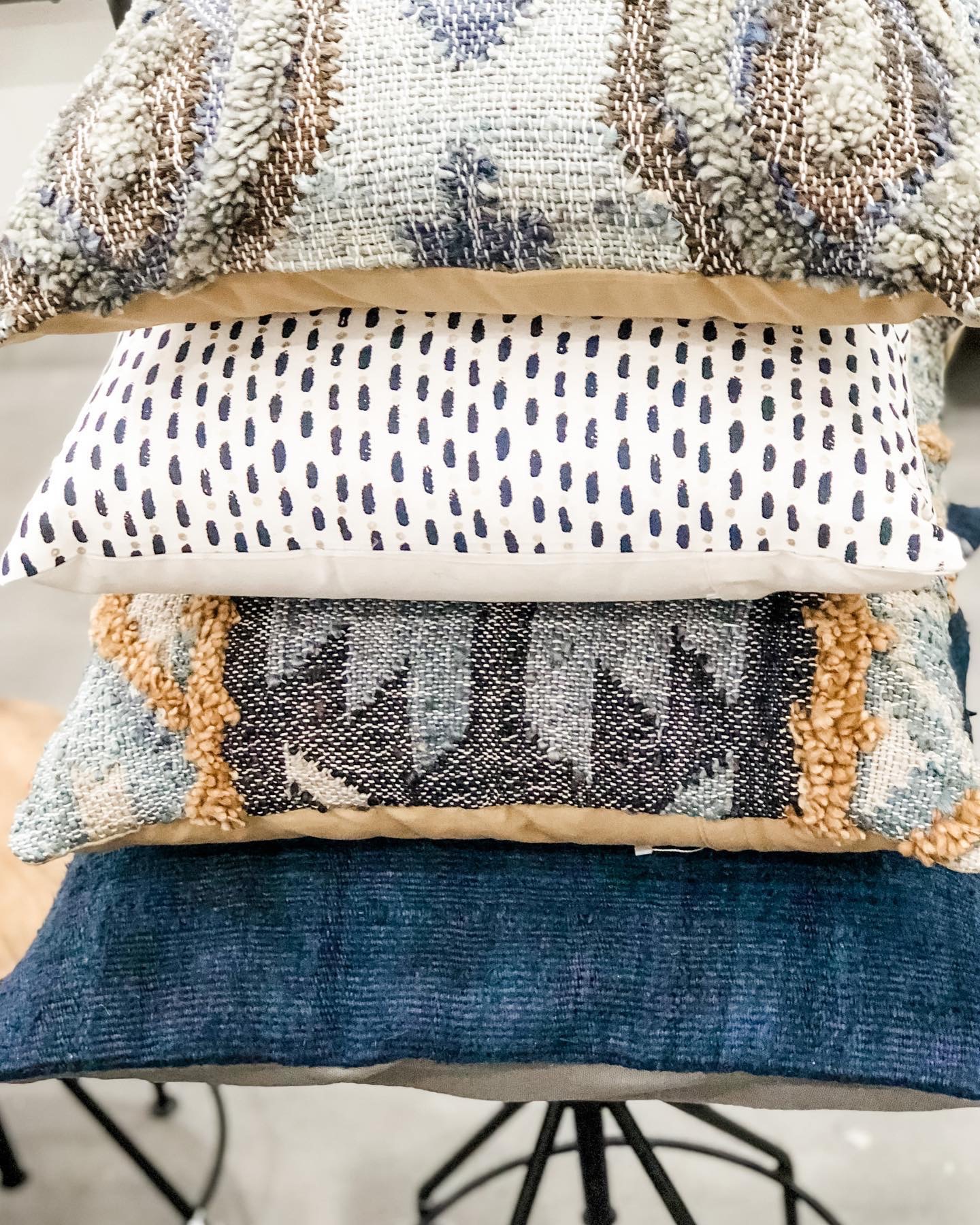 How do I make a statement with pillows?  Have you ever walked into a space and your eyes are suddenly drawn to the lines of the room? Decor trends these days call for texture in each room design. From raw surfaces to woven fabrics you should emphasize on natural, unrefined materials. For those of you who want to experiment with this trend, textured pillows are a great way to add visual appeal to your room without breaking the bank.
How should I arrange pillows on a large sofa? Let's start by combining contrasting pillow sizes. The best method to create an elegant pillow arrangement is to start with two large matching pillows on each end of your couch. The best size to make a bold statement is 22" pillows with large scale patterns. This will anchor the ends of your sofa. The best size to give your arrangement some depth is a 20" solid neutral color pillow. Remember, these pillows set the tone for your furniture setting.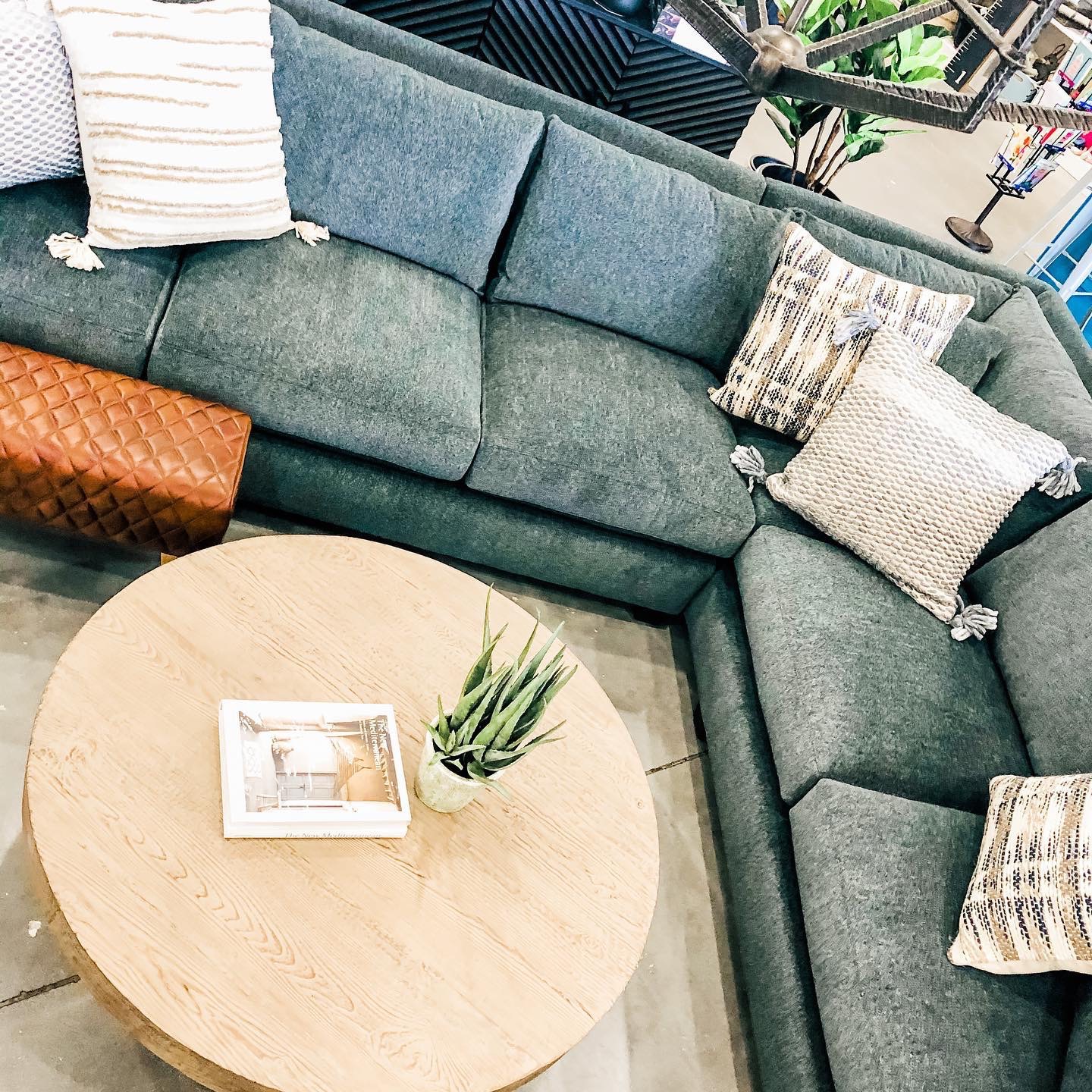 To fluff or Not to fluff? Once you have set your pillow arrangement you are often faced with the decision on whether you want your pillows with curves or left with straight lines. This is a personal preference for everyone. There really isn't a right or wrong answer to whether you want to chop your pillows or not. However, we are big fans of chopping pillows down the middle to give it a functional and decorative look. But by fluffing your pillows you give them a little bit more dimension, which can give your sofa, or chair a bit more depth.
Where can I find good pillows in North Phoenix?  There are many stores on the upper westside PHX where you can find amazing pillows but our amazing team at our family-owned store of Robyn's Nest will help you choose the perfect accent pillows to fit your design needs. We have many sizes, color prints, and textured pillows for you to choose from. We know how hard it can be to decide on the pallet and size of the pillow. We take pride in helping each customer love the items they purchase. Ok, I think that's enough pillow talk for today. Stay tuned for more design tips and new products from Robyn's Nest. 
For more design tips and to learn more about designing your home, just stop by our store in Peoria, Arizona 85383 area.
Robyn's Nest – Creating your perfect nest to call home. Happy decorating