Robyn's Nest delivers simple ways to decorate your home. From custom furniture to decorative accessories, Robyn's Nest has everything you need to make the perfect nest to call home. Today we want to chat about Robyn's top favorites for adding a cozy vibe to your living room or bedroom:
Between TV binge sessions in the living room and enjoying sweet dreams in your bedroom, putting some extra effort into making the two rooms you spend most your time in, warm and cozy is worth it!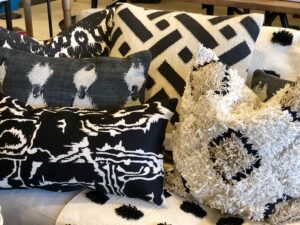 Start with blankets and pillows, now take those, and put them everywhere! We're talking fluffy blankets, knit blankets, plush cotton blankets, crochet blankets, and the perfect throw pillows to match in every corner possible. The idea here is to be sure your space looks comfortable so you feel snug (plus an added bonus is you'll always prepared for a nap). Your bedroom and living room are your retreat so use not only soft throw pillows for warmth but pick and choose the colors and styles to match the vibe you want. If you're looking more for a calm escape, use soft tones or if you want a vibrant feel, use warm tones.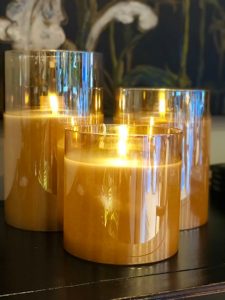 Next, let's discuss the one thing all spa retreats use to create a calm ambiance, candles. Pillar candles, votives, candlesticks, and candle holders are great way to fill empty spaces around the room while setting the mood. We love to have fun with different groupings and pairings to really cozy up a room and make it lively. Don't be scared to use nontraditional candle holders such as planter pots or embrace traditional candle holders such as hurricane vases or lanterns. Either way, our Flame Wave realistic LED Flame candles are a great way to add to the ambiance with a flame simulation. But if you want real candles, we have so many to pick from. Some of our team's favorites are Raspberry Sangria, Sunrise Margarita, from a local candle maker, Pink Honey Candles. An all-time favorite is the Swan Creek Soy Candle line.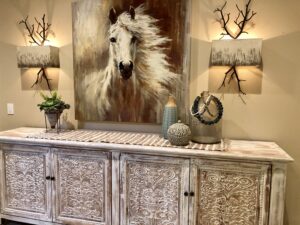 Wall decor is another great piece that can be used to make your living room and bedroom more serene. Choose photos and art that reflects the tone you want to set in the spaces you spend most your time in. Another fantastic option is to include word art throughout the room that gives you a motivating feeling. If the words are empowering and encourages you to be the best version of yourself, how could you not feel so welcomed and at peace in that room?
By pairing each of these decorative elements together in your living room and bedroom, you'll have the perfect transition from the hectic outside world to your calm sanctuary. For more design tips and tricks to give your home that warm, fuzzy feeling, stop by our store in Peoria to speak with one of our design experts!
Robyn's Nest – Creating your perfect nest to call home. Happy decorating!