3 Ways to Bring Your Home Designing to the Next Level
At Robyn's Nest, it is so important that we support your goal to design a home that reflects YOU! We love what we do here and boy, do we have fun. But here is the thing, everyone is different and in different seasons of life; therefore, we present options and guide you to design your home based on your lifestyle and family's needs. We came up with 3 ways to bring your home designing to the next level. The great part about these tips, is that you can apply them in almost any home. First, we are going to give you tips to dress up house plants (or trees), then we are going to share with you how to dress up your sofa. Our last tip of the day will be on Tablescaping. We want to share with you how to dress up a table to tie it all together. Sounds like fun, right? Let's get started.
Dressing Up Plants with Baskets
Whether it's a real or artificial plant, dressing it up with a basket is a fun way to add a strong décor element to elevate the look. And because of just that, baskets are a hot trend right now in the home décor world. But we are going to take it to the next level. When talking baskets and plants, we want to focus on color, unique elements and accessorizing. First, when deciding on the color of the basket, look at the colors and tones of the room and pick a basket that compliments the vibe you already established. Be careful to not be too matchy-matchy here. Rather, look at the room and pick colors that you want to highlight or fit into a theme. But this doesn't necessarily mean avoid baskets with green in them if your house does not have green décor. The plant is green, so this is trick to enhance the vibrant colors of the plant and even make it look more real (if it's fake) and healthier (if it's alive). Not all baskets are made the same! Decorating with baskets is fun but can be tricky. Be on the lookout for baskets that have unique elements to make them standout. This can be wicker tassels, leather wrapped handles or even woven patterns. Accessorizing simple baskets can add that unique element we were just talking about. Decorate a simple basket with wooded or glass beads by draping through the handle to add a tassel detail. And that's how you dress up plants with baskets.
Dressing Up a Sofa with Pillows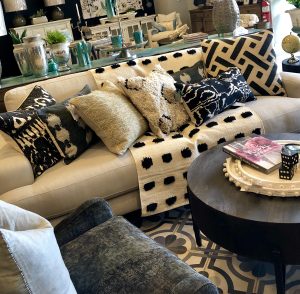 Dressing up a sofa with pillows allows you to show off your style in a functional and classy way. We are all about functional décor at Robyn's Nest. We want you to be able to truly live in your home and not feel like it's a showroom. Pillows are a fun way to add colors, patterns and layers to a room while being welcoming and cozy. The trick with pillows is finding unique pillows to speak to your style. The ingredients for a great pillow recipe are solid, pattern, and texture with a common theme or color scheme. Here you see that we have different patterns and textures, but they all compliment the solid pillow. The solid pillow will be your anchor but not the star of the show. The solid pillow is there to help break up the patterns and add a cohesive look. The texture pillow is to help soften the look and make it more welcoming. Here is another quick tip, think about coordinating pillows and table runners for a cohesive look throughout the home.  Much like eyebrows, décor should be sisters and not twins.
Dressing Up a Table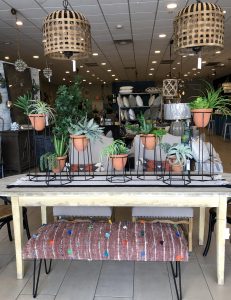 Dressing up a table is a great opportunity to showcase your unique style on a smooth landscape. Here we are going to talk about Tablescaping, the art of decorating your table to make a welcoming and fun décor statement. When it comes to dressing up a table, the secret is in layers! Different elevations allow the eyes to bounce around and fully take in what it presented. But you also want a theme or else you risk having the table look like a catch all dumping site. He
re we have a theme of neutral and black with pops of green. The neutral and black table runner adds a foundation to the color scheme that we build on with the black wrought iron planter stands. The black from the runner connects to the planters which pulls our eyes up to the pops of color in the faux succulents. Beware of the table sandwich approach, it is easy to get stuck in that mode. The table sandwich is when you are designing with the plan to have the foundation color also be the top color.  Here we have a pop of color on the top. If you do the sandwich approach, the layers are eliminated because your eyes will only see a top, middle and bottom of the tablescape. Our goal with decorating tables is to have it cohesively blend with the other rooms of the home, so we don't want to put a top, middle and bottom to it.
There you have it, 3 ways to bring your home designing to the next level. We talked about dressing up house plants with baskets, decorating with pillows and Tablescaping to tie it all together. For more design tips and tricks to give your home that functional design feeling, stop by our store in Peoria, Arizona to speak with one of our design experts!
Robyn's Nest – Creating your perfect nest to call home. Happy decorating